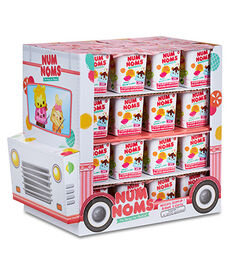 Mystery Packs are blind packages that contain a mystery Num, a Nom, and a collectors guide.
Besides the normal Mystery Packs, the first spin-off series was introduced in Series 3, these being light up Num-Noms.
Appearance
The mystery packs come in a large, serving truck driven by Num-Noms. From Series 1 to 3, the Num-Nom came in a yogurt cup shaped container with color accents changing each series.
Starting with Series 4, this has been changed to a smaller vehicle, with them now being in frozen drink containers.
The Light series of Num-Noms come in a drink dispenser for a container, and their mystery packs are shaped like milk or juice cartons. In series 2, a ring base is included to pop the Num-Nom on and wear.
Series 1
Nums
Noms
Series 2
Nums
Noms
Series 1 Lights
Nums
Noms
Series 3
Nums
Noms
Series 4
Nums
Noms
Series 2 Lights
Nums
Noms
Trivia
Gallery
Ad blocker interference detected!
Wikia is a free-to-use site that makes money from advertising. We have a modified experience for viewers using ad blockers

Wikia is not accessible if you've made further modifications. Remove the custom ad blocker rule(s) and the page will load as expected.