Starter Packs are small sets of Num Noms that make a "complete dish". In each pack are 3 Nums and 1 motorized Nom that can be stacked and assembled in any shape, or combined with other sets. Along with each set is a dish to set the Num Noms in, along with an utensil. 
Series 1
Cupcake
A spoon and round dish is in each set.
Sour Citrus
Triple Berry
(Special Edition) Confetti Surprise
Ice Cream
A spoon and ice cream cone is included.
Neopolitan
Tutti Frutti
Banana Split
Series 2
Series 2 includes individual Starter Packs for each of the types, rather than a few varieties. These include:
Freezie Pop: A spoon and a clear cup is included.
Pizza: A pizza cutter and a box
Brunch: Spatula and skillet are included
Jelly Bean - Comes with blue scoop and a candy bowl.
Diner - Spatula and a food tray
Ice Cream - Blue spoon and a bowl.
Fair - A fork and a food tray
Series 3
Based on Series 2, each type has a single starter pack available. Also introduced are eraser Noms.
The sets include: 
Fresh Fruits: a mint fruit container and pink fork.
Hard Candies: A clear candy bowl and pink scoop.
Marshmallow: Pink wrapper with gold frosting, a pale blue spoon.
Glazed Donuts: Silver pastry tongs and a pink mug. 
Series 4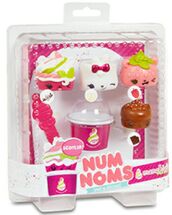 Reminiscent of a food storage container, there is a variety of types. Each box contains a glitter gloss Nom and utensils.
Menchies
A limited time Toys R Us only pack that is part of a collab with the frozen yogurt brand Menchies. Comes with three exclusive Nums, 1 exclusive Nom, and a cup and spoon styled after Menchies.
Num-Nom fans can also obtain special Num-Nom themed cups at certain Menchies locations.
Cookies & Milk
Comes with a pink cookie jar and silver clamps.
Frozen Yogurt
Comes with a dark pink tray and a blue spoon.
Tea Party
Comes with a light blue plate or tray and a pink and silver serving utensil.
Ice Cream Sandwiches
Comes with a white square-shaped bowl or plate, and a pink spoon.
Trivia
Gallery
Series 1
Series 2
Series 3
Ad blocker interference detected!
Wikia is a free-to-use site that makes money from advertising. We have a modified experience for viewers using ad blockers

Wikia is not accessible if you've made further modifications. Remove the custom ad blocker rule(s) and the page will load as expected.